IT Asset Management (ITAM) Foundation Online (30 Days)
IT Asset Management (ITAM) Foundation Online (30 Days) Training Course
The ITAM Foundation Online Training Course Will Help You Become ITAM Certified In Only 30 Days!
£325 (Excl. VAT)
€374 (Excl. VAT)
$406 (Excl. VAT)
Introduction
Do you want a career in IT Asset Management (ITAM)? Or would you like to earn some industry-recognised qualifications from home?
This ITAM Foundation online training course will expand on the workflow and define the key roles within the ITAM disciplines across financial, contractual, inventory departments as well as highlighting the cultural change that could ensue for end-users in an IT environment.
Purple Griffon's ITAM Foundation online training course will help you to become ITAM certified from the comfort of your very own home or office at your own pace.
Click the links below to get instant access to the following:
ITAM Foundation E-Learning Demo
Payment Details
Full payment is required before your elearning order can be processed. Once payment has been confirmed, the elearning order will be passed to our administration department for set-up and processing.


Access to Your E-Learning
A personal login for our Learning Management System will be created for you and you will receive an email containing details of the URL, username and password.


Please Note
* Depending on when the initial order is taken, it may take up to 48 hours to process.
* Your course access time will only trigger and commence when you first log in.


Course Outline
The ITAM Foundation online training course will cover four key areas of IT Asset Management and their interaction in relation to contract management, compliance, information security, cost control and IT business value:
Hardware Asset Management (Including Mobile devices)
Software Asset Management
Services and Cloud Asset Management
People and Information Asset Management (Including Bring Your Own Device)
Description
IT Asset Management (ITAM) forms an important element in a business strategy enabling cost control, risk reduction and improved business value in the IT asset lifecycle, including all aspects of hardware and software used in an organisation.

About the Course
The ITAM Foundation online training is video guided and will provide you with all of the knowledge required to successfully take and pass the ITAM Foundation online examination.

Who Should Attend
The ITAM Foundation training course is intended for all key personnel in the organisation involved in the IT lifecycle. Whilst this certification has an IT focus, it has been specifically designed for non-IT personnel in mind.
Specific roles/responsibilities could include (but are not limited to):
Overall Management
IT Manager
Procurement Manager
Financial Manager
IT Operations Manager
Project Manager
Process Manager
Contract Manager
Risk Manager
Business Continuity Manager
Security Manager
Materials Provided
This ITAM Foundation online training course includes:
ITAM Audio Transcription
ITAM Quizzes
ITAM Study Guides
The Official ITAM Foundation Syllabus
ITAM Foundation Sample Exam
The duration time will start as soon as you access your online learning portal, or after 28 days - whichever is sooner.
Organisational Benefits
What are the organisational benefits of the ITAM Foundation online training course?
What to be aware of in daily IT operations in regards to compliance
How to assess the ITAM objectives of your organisation
The ITAM ecosystem and key stakeholders
How the ISO methodology and ITSM best practice approach can contribute to a successful ITAM program
Risk and cost control of your IT Assets
How to achieve compliance within the four key ITAM areas
Individual Benefits
What are the personal benefits of the ITAM Foundation online training course?
Why your organisation needs ITAM
The ITAM business disciplines and best practices
The challenges and benefits associated with ITAM in a dynamic IT environment
The four key ITAM areas and their interrelation (SAM, HAM, SEAM, PINAM)
The IT asset lifecycle from procurement through to retirement and disposal
Technical Requirements
WINDOWS
Screen Resolution: 1020 x 768 or above
Network/Internet Connection: 4Mb (megabits) or above
Windows XP or higher
Microsoft Internet Explorer 6+
Firefox 3+
Safari 4+
MAC
Screen resolution: 1020 x 768 or above
Network/Internet connection: 4Mb (megabits) or above
Mac OS X 10 or higher
Firefox 3+
Safari 4+
Purple Griffon advise you that you use the Firefox Web Browser for the best educational experience and have compatible speakers or headphones.
Please Note: You will be required to have some form of photo ID (passport, government ID or equivalent) for the examination. If the examination includes a document to be printed, then please ensure that you have a printer in the room where you will be sitting the exam. Some examination institutes will ask you to have a small mirror or reflective surface and the proctor will request that you hold this up to show there is nothing attached to the webcam or even the laptop itself. Also, Adobe Flash Player and Shockwave must also be installed on your desktop or laptop prior to the examination.
For a successful ITAM Foundation online exam, you will need:
| | | |
| --- | --- | --- |
| | MINIMUM | RECOMMENDED |
| Web Camera | 640×480 resolution | 1280×720 resolution |
| PC Users | Windows XP | Windows 7 |
| Mac Users | Mac OS X or higher | Mac OS X 10.7 Lion |
| Internet Download Speed | .768 Mbps | 1.5Mbps |
| Internet Upload Speed | .384 Mbps | 1.5Mbps |
| RAM | 1024MB | 2GB |
Prerequisites
There is no entry level requirements for the ITAM Foundation course, all of the information that is required to pass the examination is included in the courseware.
Prereading
There is no prereading for the IT Asset Management course, all of the information that is required to pass the examination is included in the courseware.
Exam Overview
ITAMOrg ITAM Foundation Online Exam

Exam Duration: 60 Minutes
Exam Format: Multiple Choice
Exam Delivery: Online, Webcam Proctored
Exam Questions: 40 Questions
Exam Pass Mark: 65%
The exam is an online proctored exam conducted by Van Haren.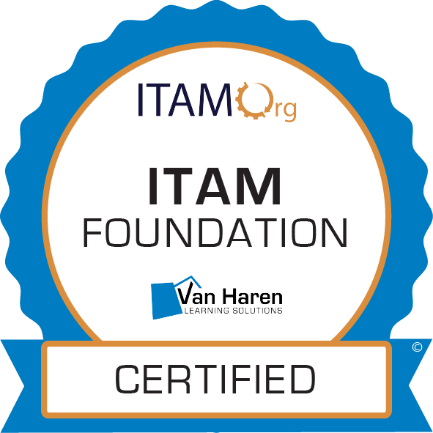 Professional Development Units - PDU's
There are no formal Professional Qualification Credits attached to the ITAM online training package.
Qualifications
ITAMOrg IT Asset Management (ITAM) Foundation Certificate
Next Steps
Following on from your ITAM Foundation qualification we would encourage you to look at the new ITIL 4 release which builds on the content from the ITIL V3 Framework and brings ITIL into the digital age. ITIL 4 now incorporates ITAM as on of its 34 Practices.
The ITIL 4 online training courses will include more practical guidance to help your organisation to tailor your own ITSM strategy, which will help you to adapt to the increasingly complex modern service environment.
The ITIL 4 online courses will also help you to focus on concepts like value, outcomes, costs and risks, as well as a very strong focus on continual service improvement.
Some of the core ideas from the current ITIL versions like Incident Management, Change Management and Problem Management still exist in the ITIL 4 Framework, but ITIL 4 gives a way more holistic view.
Start your ITIL 4 journey today and your brand new ITIL 4 qualification could be earned online in just 30 or 60 days!
Conclusion
A successful IT Asset Management program involves several departments within your organisation such as Budget Managers, IT Service Departments and Finance. The ITAM Foundation online training course is designed for all key personnel in these functions. The ITAM Foundation course should be taken by several employees from these areas to enable a coherent focus throughout your enterprise.