AVAILABLE NOW – IT Asset Management Certification
Introduction
Introduction To The ITAM Certification Training Course
IT Asset Management (ITAM) is one of the most important elements for any business strategy. Understanding and utilising it, ITAM improves a business' cost control and risk reduction while increasing business value with IT assets. These assets include all aspects of hardware and software used within an organisation.
This three-day IT Asset Management Foundation course introduces the concept of asset management for anyone new to ITAM. Attendees range from IT administrators with an operational focus to CFOs with a budgetary responsibility. At the end of this ITAM Foundation course, participants will be able to understand the purpose and use of ITAM and how it benefits an organisation. This even includes licensing complexities related to IT operations in terms of software and hardware updates and acquisitions.
Please Note
You can book this course and hold it in credit until you have decided on a specific course date. Alternatively, please
view our other course dates
.
Course Outline
DAY 1
ITAM introduction:
Definition, purposes and objectives
Why does your organisation need ITAM?
Introduction to the four key areas:
Hardware Asset Management, Software Asset Management, Services & Cloud Asset Management, People & Information Asset Management
The IT Asset lifecycle and its impact on your business
The key roles in ITAM – stakeholders, functions, roles and responsibilities
Typical business issues and challenges in the ITAM workflow
Introduction to ITAM best practices, ISO55000 and ITSM
Hardware Asset Management (HAM) introduction:
The concept, purpose and benefits of HAM
The HAM lifecycle in your organisation from acquisition through to disposal
Request and approval processes, procurement and lifecycle management, redeployment and disposal management
The placement of HAM in the ITAM ecosystem
Mobile device (asset) management aspects of HAM
The best practices of HAM (ISO and ITSM)
The tool reflections of HAM
Software Asset Management (SAM) introduction:
Definition and objectives
SAM best practices and framework
The business value of SAM
SAM from request to acquisition throughto disposal
Key roles and stakeholders in a SAM program
The placement of SAM in the ITAM ecosystem
The concept of compliance
The risks/costs related to software audits
Organisational pitfalls and challenges in the SAM process
IT service Management and ISO19770 approach within SAM
DAY 2
Services and Cloud Asset Management introduction:
The concept of services and cloud services
The costs, challenges and benefits associated with Services and Cloud services
Definition and objectives within Services and Cloud Asset Management (SEAM)
The contractual issues with assets in SEAM
The pitfalls and benefits from SEAM
ITAM best practices in a SEAM context
The placement of SEAM in the ITAM ecosystem
Key roles and stakeholders in a SEAM program
Compliance in a Cloud perspective
People & Information Asset Management (PINAM) introduction:
Definition and objectives
How to define Information and People as assets
Security and risk control (information sharing, employees leaving the organisation, loss of mobile devices, access regulations, etc)
BYOD in a People and Information Management perspective
How do mobile users use their devices and content? Benefits and pitfalls
Policy Setting – security policies for content, users and mobile devices
DAY 3

ITAM Key findings and conclusions:
The best practices in the ITAM framework
How to assess and understand the ITAM maturity in your organisation
The interface between the four key ITAM areas (HAM, SAM, SEAM, PINAM)
Effective communication of your ITAM goals to the key stakeholders in your organisation
ITAM integration with the organisational key business drivers and goals evaluation
Exam preparation and Exam
Description
Description Of The ITAM Course
The focus of this ITAM Foundation training course is to expand organisational workflow. This happens by defining the key roles within the ITAM disciplines across financial, contractual, and inventory departments while highlighting the culture changes that ensue for end-users in an IT environment.
About the Course
Additional ITAM Course Information
The ITAM Foundation Course is based on the best practices for service management and the ISO standards (ISO 55000 and 19770). It introduces participants to the ITAM framework in terms of IT governance and optimisation of IT assets from procurement to disposal.
Who Should Attend
Who Should Attend The ITAM Foundation Certification Training Course
A successful ITAM certification program involves several department members in your organisation. Roles such as organisation managers, IT service department members, and members of the finance department are all suitable candidates. The ITAM Foundation course is designed for all personnel in these functions.
Materials Provided
Materials Provided For The ITAM Course
Full ITAM course materials are provided. These materials include:
Course manual
Handouts
Mock exam questions
Organisational Benefits
Organisational Benefits When Using ITAM Foundation Practices
Increase knowledge of how to perform IT asset management and configuration
Improve an understanding of risks associated with IT infrastructure configuration
Improve business reputation
Increase understanding of the relationship between services and the IT assets that create their framework
Improve job satisfaction
Individual Benefits
Individual Benefits When Using ITAM Foundation Practices
Increase ROI, cost reduction benefits, and overall better financial health
Ability to base business decisions on the lifecycle of IT assets
Manage risks when necessary and firmly approve when acceptable
Improve reputation with your stakeholders after practicing ITAM Foundation methods
Demonstrate compliance with regulation and legislation
Increased attractiveness for shareholders
Demonstrate compliance with the requirements and wishes of your stakeholders
More Informed decisions from multiple angles, such as performance, costs, risks, and opportunities
ITAM brings higher customer satisfaction
Traceability of decisions
Improved knowledge management
Prerequisites
Prerequisites For The ITAM Foundation Certification Training Course
We recommend the ITAM Foundation Certification Training Course is attended by employees from several departments in your business. This includes finance, IT, and management. This helps enable successful and coherent focus throughout your enterprise after understanding ITAM methodology. Individuals can also benefit from this foundation course and are welcome to attend.
Though this course has an IT focus, it has been specifically designed with non-IT personnel in mind. There is no prior course study or knowledge of IT required to take this course.
Prereading
ITAM Course Prereading
There is no prereading associated with this course.
Exam Overview
ITAM Foundation Certification Exam Overview
The examination is a one-hour closed-book online multiple-choice test, consisting of 40 questions. The pass mark is 65% (26/40)
The exam is invigilated via a remote proctor by Van Haren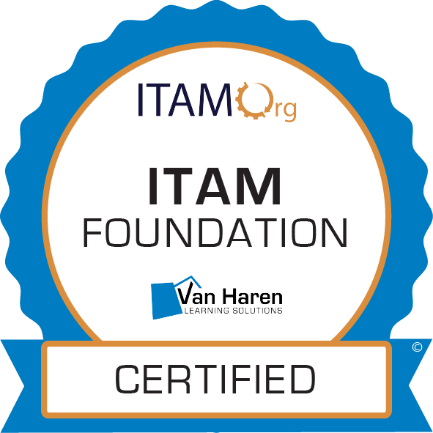 Professional Development Units - PDUs
Contact one of our friendly account managers for more information about this course.
Qualifications
ITAMOrg ITAM Foundation Certification
Next Steps
Our three-day Software Asset Management Specialist (SAMS) training course is designed for IT professionals with some understanding of the IT Asset Management area. This may be beneficial to take prior to or after this ITAM Certification course.
Conclusion
ITAM Foundation Certification Training Course Conclusion
At the end of the ITAM Foundation Certification Training Course, attendees will have gained a deep understanding of IT asset management and how it benefits employees, departments, and entire businesses.
IT Asset Management (ITAM) Foundation Course Dates
Scroll Table to View Content